In line with its responsibility to proactively improve the effectiveness and efficiency of critical security/safety processes, JETT Force was able to develop and implement the following major systems innovations;
Security &Safety Patrol(SSP)
JETT Force in its desire to achieve Zero Untoward Incident has integrated Safety in the day-to-day security patrolling of its Client premises. Hence, when you get JETTForce as Security Provider you also acquire Safety Services without any additional cost. Each deployed JETTForce personnel are adequately trained and oriented both in the safety and security aspects of their duties and responsibilities.
Observe-Detect-Respond-Report(ODRR)
While conducting SSP during their tour of duty, each JETTForce personnel are directed to consistently perform the Observe-Detect-Respond-Report (ODRR) method of security operations to prevent/control/mitigate any possible untoward security/safety related incidents including any would-be violations of Company rules and regulations. Thus, ODRR stands for;

O-Observe or vigilant observation of any potential unsecured
/unsafe condition at the assigned AOR during tour of duty.
D– Detect or quick assessment of any unsecured/unsafe
findings in the AOR todetermine the appropriate response.
R– Respond or immediate corrective action of the detected
unsecured/unsafecondition in the AOR.
R– Report or render appropriate written report of the detected
unsecured/unsafe condition to include the action taken.
Guard Tour & Patrol Apps
JETT Force has further improved its system with the development of Web Based Operations Management System which allows real time monitoring of its guard force performance, paperless submission of reports and faster communication with the Client representative.
Presently, the new system has contributed a lot in attaining our goal of "Zero Untoward Incident" because of the accurate measurement of security/safety patrolling of the Client premises thru its cloud based on-line Guard Patrol Monitoring System thus replacing the conventional "watchman clock".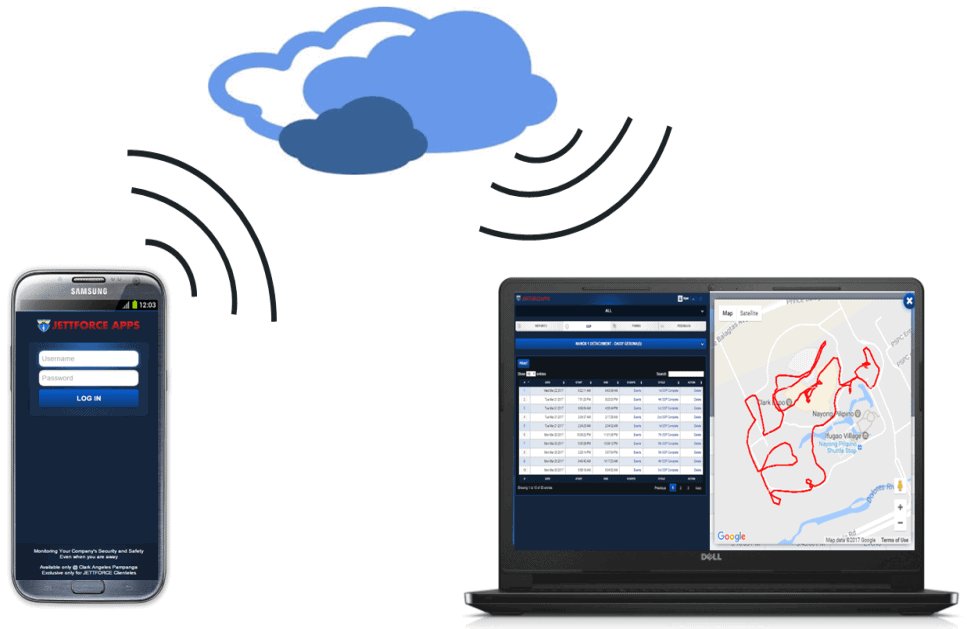 Body Camera for SSP/ODRR Monitoring/Recording
As part of its QMS and continuing innovations, JETT Force has recently included in its 24/7 security operations the use of Body Camera purposely to serve the following;
To check/validate the SSP/ODRR and Post-to-Post Inspection being performed by our roving Duty Inspectors and Detachment Shift-In-Charge during their tour of duty.
To record and review significant events and/or activities undertaken more importantly the proper handling of actual emergency situations.
To aid in the investigation of safety/security issues and serve as basis for the improvement of operational procedures designed to prevent its reoccurrence.